Our Organization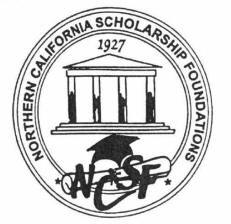 "Only by work does man progress mentally. Only by suffering does man progress morally. Only by intelligent love does man serve humanity."
-Dr. Walter B. Scaife, Founder of the Scaife Scholarship Foundation
The Northern California Scholarship Foundations (NCSF) were begun in 1927 with a gift from Dr. Walter Bell Scaife. Dr. Scaife intended to aid able, worthy and ambitious public high school graduating seniors in their quest to secure a higher education. Since then, additional gifts have been received by the Trustees for distribution. NCSF is a not-for-profit organization and accepts private gifts from individuals who desire to contribute to the educational opportunities of deserving scholars.
Eligible students from public high schools in Northern California are nominated by their school, selected for an interview and selected by the Trustees to receive the scholarship. "Northern California" is defined, for the purpose of eligibility for an NCSF scholarship, as from the southern boundaries of Kern, San Luis Obispo and Inyo Counties north to the Oregon border. Invitations to nominate are mailed to these public high schools in mid-December each year. Each school may nominate a single graduating senior based on academic achievement, community engagement and financial need. A portion of both the nomination and application processes are completed online with supporting documents being submitted in hard copy. No nomination or application will be considered complete until both the online information and supporting documentation are received.
No unsolicited nominations or applications are accepted.
Our History
Dr. William B. Scaife was born in Pittsburg in 1858. He was a 32o Knight Commander Court of Honor Scottish Rite Mason, a scholar, a professor and lecturer, a businessman, and a patron of the arts and sciences. He traveled throughout the world and at one point during WWI he served as an unpaid volunteer interpreter to various European institutions.
One of Dr. Scaife's most outstanding and generous contributions was the formation of this scholarship foundation. He desired to assist worthy high school graduates whose parents were unable to provide the necessary funds for a college education, and from 1927 to 1936, he financed the scholarships personally, paying $25 a month to each scholarship recipient for a total of $250 a year. After his death in 1936, his entire estate was set up as a capital fund for the Foundation.
The Foundation is very proud of its history. To understand the growth of the foundation Dr. Scaife started with one student receiving $250.00 per year, the various Foundations overseen by the Trustees now support more than 230 scholars who attend universities all over the world. Each scholar receives disbursements in the amount of $8,000 per year for the traditional four year undergraduate course of study making the value of each student's scholarship $32,000. The Foundation has assisted well over 2,000 students over its 80+ years of continuous operation.
Dr. Scaife once wrote that the value of the foundations' endowments "is not to be measured in dollars, but in the manner of life led, conduct in the family and usefulness in the community." He expected scholarship recipients to earn some portion of their educational expenses, and once outside of school, to become prosperous leading members of society.